Ghost has a lot of photography equipment. On this page you can find an overview of the equipment and software Ghost uses for his photography projects.
(use the arrows to navigate)
SONY A68 DSLR
The Sony's Alpha A68 DSLR Camera has a 24.2MP APS-C-sized Exmor APS HD CMOS sensor and BIONZ X image processor, a 79-Point Wide-Coverage AF System, Full HD 1080p Video Recording at 30 and 24 fps, and many other features mostly only found in more expensive DSLR's.
This is the camera Ghost uses most of the time.
Sony 18-55mm Objective
The Sony 18-55mm f/3.5-5.6 SAM II objective is a compact versatile standard zoom lens ideal for everyday shooting.
The lens features two aspherical lens elements and one extra-low dispersion lens element for reducing chromatic aberrations throughout the zoom range.
The objective has a minimum focus distance of only 25 centimeters and a magnification of 0.34x, making it suitable for taking close-up shots.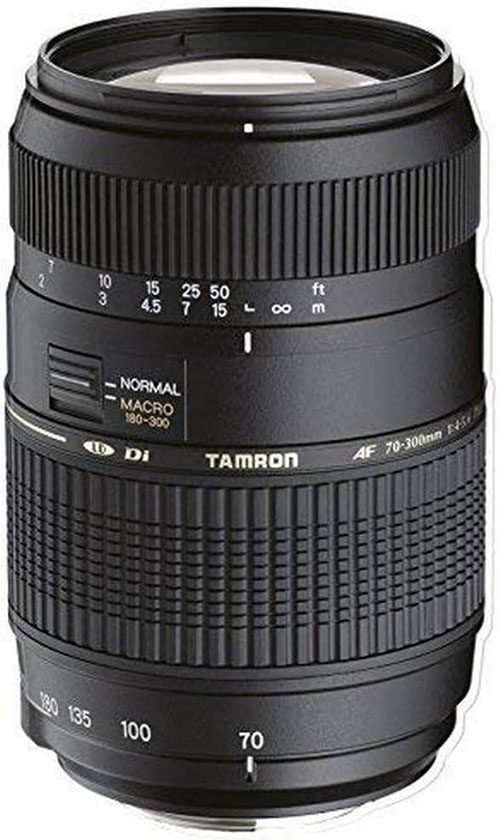 Tamron 70-300 mm Objective
The Tamron AF 70-300 mm 1: 4-5.6 Di LD MACRO 1: 2 objective is a compact high-performance telephoto zoom lens.
Ghost uses this objective mainly for action and sports photography. It gives a very nice depth of field, but is also ideal for portraits and given its large zoom range, certainly also for street photography, photographing animals in a natural environment or to take pictures of subjects that cannot be approached at close range.
This objective also offers the possibility to do 1:2 macro photography.
Panasonic Lumix DC-TZ90
The Panasonic Lumix DC-TZ90 is a compact camera with a 24mm Leica DC Vario-Elmar lens, has a 30x optical zoom (35mm camera equivalent: 24-720mm) and a 4x digital zoom.
Thanks to the High Sensitivity MOS sensor and Venus Engine processor it can take photos and videos (4K with a resolution of 3840×2160 pixels at 30p (60Hz) / 25p (50Hz) in MP4) of high image quality in poor light conditions.
A camera that Ghost almost always has with him to make a quick picture when necessary. It's not always possible to carry the heavy DSLR and all the objectives with you, and that's where this camera comes in.
The image quality is almost as good as that of the DSLR, despite the fact that this device has 'only' 20.3 megapixels.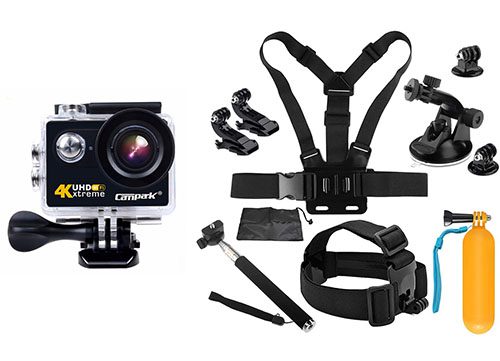 Campark 4K Action Camera
The Campark ACT73R 4K action camera is a tiny little camera and a GoPro clone. The device has a resolution of up to 16mpx for photos, but Ghost mainly uses this camera to film while in the middle of the action, because that's what this device is actually made for.
Video resolutions of 4K@25FPS, 2.7K@30FPS, 1080P@60FPS, 1080P@30FPS and 720@120FP are possible via the 170° wide angle lens.
The  waterproof housing allows filming in wet conditions or even under water to a depth of 25m.
There are also many accessories available to attach the camera to helmets, bicycles, vehicles, wearing it on clothes, in  a body harness etc… 
The camera can also make Time Lapse recordings with interval times between 2 and 60 seconds.
Xiaomi Mi Sphere Camera
For panoramas, Ghost usually uses the Sony or Panasonic camera, but with the Xiaomi Mi Sphere real 360° photos or videos can be made.
This device has a Sony lens on both sides, each of which has an angle of view of 180°. After the shot both images/video's are stitched together using software, which gives a 360° image or video.
Video resolutions of 3456×1728 @ 30fps, 2304×1152 @ 60fps and 2304×1152 @ 30fps, photo resolutions of 6912×3456 or 3456×1728 are possible. The 6-axis electronic image stabilization keeps recordings crisp and clear.
Tiny planet photography is also possible with this camera. This is a fun and unique way to capture your surroundings. By stitching together multiple photos of a scene, you can create a "tiny planet" effect that gives the viewer a new perspective on your surroundings.
Realme X2
Just like most people, Ghost also has a smartphone with a camera on board. Ghost has this phone for a while (since early 2020) but the Realme X2 – actually a clone of an Oppo phone –  is still working great after all these years.
In addition to the 6GB memory and the Qualcomm Snapdragon octa-core processor, which makes the phone very fast to use, the device also has a fantastic camera. While the front camera only has 16Mpx, that's completely different with the rear camera which has a stunning 64Mpx and four lenses that can be combined. 8Mpx Wide angle, 13Mpx telephoto and 2Mpx Portrait lens. It can also ,shoot videos at 4K resolution.
In terms of camera quality, this phone is not inferior to an expensive Samsung or iPhone. Ghost takes quite a lot of photos and videos with this phone.
Camera Glasses
Ghost bought these camera glasses a few years ago on some Chinese website. It's a cheap gadget, but it works.
The (somewhat older) glasses can only record in 640×480 resolution. Image quality is usually of less importance in these kind of recordings, so that resolution is fine.
When Ghost makes recordings with his camera glasses on private property, the people present will always be informed in advance or afterwards that they will be or have been filmed. In public places Ghost uses the camera glasses only to shoot general footage. Ghost is a photographer, not a private investigator, and does not participate in acts of voyeurism or invasion of people's privacy!
Bresser Microscope
Ghost can take microscopic photos and videos with the Bresser Biolux NV 20x-1280x microscope. The magnification can be set from 12x to 1280x. The objectives on the turret have a magnification factor of 4x, 10x and 40x. The CMOS sensor in the camera provides HD pictures and recordings of 1920 x 1080 mpx.
Microscopy photography is something Ghost does experiments with. It's harder than it looks. You not only need a good preparation, but also a lot of patience to make a good microscopic photo or video of it. It's not putting that preparation under the lens, pressing a button and ready. It is quite labour-intensive to make those shots or videos.
The Bresser Biolux is an entry-level microscope of barely €150, so not a high-end microscope, because those microscopes cost several hundred or even thousands of euros. However, the results with this cheap microscope are certainly acceptable.
Background Support Systems
Ghost has two background support systems to work with backgrounds.
A large professional system with aluminum tubes, adjustable in width between 1m50 and 3m with a height of 80cm to 2.5m. Three colored cloths are available for this, white, black or green for chromakey (greenkey).
A small (cheap and fairly unstable) system with a green cloth of 2m x 1.5m that can be placed at a maximum height of 2.23m. This system is only good for chromakey (greenkey) recordings where only one person and only the head and torso must be in the picture.
Since moving to a much smaller house in 2018, Ghost's home studio is unfortunately a thing of the past (for the time being anyway), so the background support systems are not used very often anymore. There is  a minimum available surface of 4m wide and 6m deep needed in order to work comfortably, something Ghost doesn't have in his current house.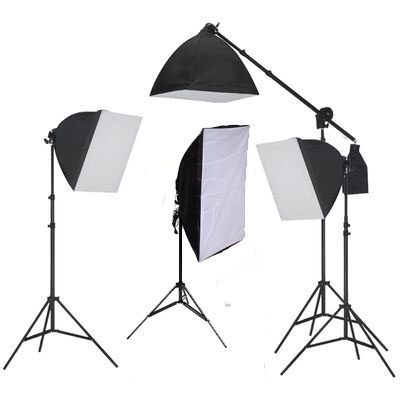 Lighting Equipment
Photography sometimes requires a little extra light. Ghost has three softboxes of different sizes and a gallows tripod with softbox to illuminate the subject from above.
The softboxes are very useful (and necessary) when recordings are made with the chromakey (greenkey) screen, because with such recordings correct exposure is very important to achieve good results.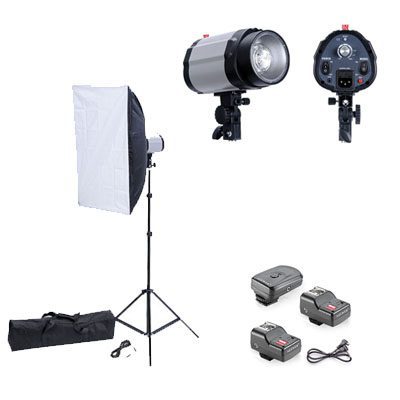 Studio Flash
Whether or not in combination with the background support systems and other lighting, Ghost uses a basic studio flash. This studio flash can also be used as an extra softbox.
The studio flash is equiped with an (optional) Neewer remote control, so that the flash can communicate wirelessly with the camera via radio link (FM). Wired communication with the studio flash is also possible.
The flash can only be used with the Sony DSLR, not with the Panasonic or other cameras.
Excelvan Ring Flash
The Excelvan CN48 Marco LED ring flash is specially designed for use in the field of macro photography, scientific and medical research, but it is also suitable for personal photography where things can be photographed at a close distance without losing sharpness.
This ring flash has four flash modes (left continuous, right continuous, full continuous and flash) and it comes with four diffusers, transparent, oyster, blue and orange.
Pixmy Ring Light
For special light effects, Ghost uses a large Pixbay ring light with a diameter of 31 cm and an adjustable height between 60 cm and 160 cm. It can be used for portraits, vlog recordings or to give objects a special color.
With a very powerful light intensity and 3000K to 6000K light color, more than 100 different types of colors can be generated via the mobile app or remote control.
This ring light has numerous extra accessories for smartphones, but can also be used with the Sony DSLR or the Panasonic Camera.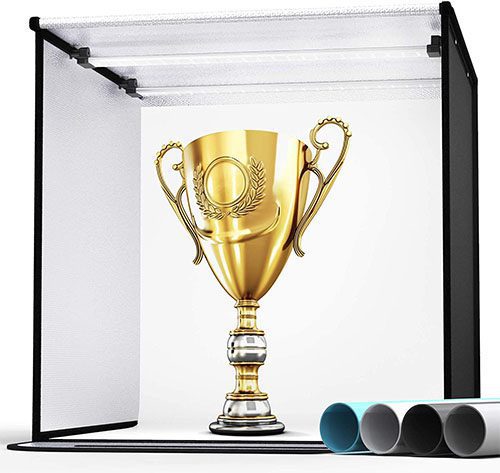 Samtian Photo Box
To photograph specific small objects or product setups, Ghost has a portable Photo Box of 60 x 60 x 60 cm. The object in the Photo Box is illuminated by 126 white LED lights of 5500K each. Thanks to the reflection, the light is distributed brightly and uniformly in all areas of the box.
This Photo Box has different openings that allows shooting from different angles. It has four different vinyl backgrounds (white, black, gray and lightblue), but it is also possible to work with a small green cloth to make chromakey (greenkey) recordings.
Takstar SGC-598 Microphone
The Takstar SGC-598 microphone is a cheap external microphone, but in most cases it does the job. It can be used for video recordings with the Sony DSLR and, in addition to the standard foam windscreen that will mainly be used indoors, it also has a furry windcap to use outdoors. Known internationally as a 'Dead Cat', but in Belgium we call this a  'Samson'. Why? On occasion Ghost will tell you the story behind this , if you don't know why.
This microphone is especially useful when conducting interviews because the built-in microphone of the Sony DSLR is not always sufficient for this (depending on the shooting location).
Wireless Lavalier Microphone
The Fotowelt UHF 6 Channels Wireless Lavalier Microphone can be used in combination with the Sony DSLR only.
The UHF frequency ensures audio free from interference with other industrial frequencies.The device uses professional audio compression expansion technology with low noise and wide dynamic range.
The wireless working distance can be up to 90 metres and is suitable for a variety of indoor and outdoor applications.
Tripods
Ghost has different tripods, but in addition to a Manfrotto monopod, he mainly uses the K&F TM2534T tripod of aluminum alloy. Easy to carry (when folded only 49cm tall and weighing just under 2kg)
The tripod is designed with a metal ball head and a transverse center column so it enables 360° shooting angle and realizes panorama shooting and macro photography.
The 4 sections legs can adjust the height from 63.5cm to 193cm. The center axis can be inverted to give Ghost the option for shooting angles lower than 63.5cm.
Stabilizers
The Neewer Stabilizer is a carbon fibe 60cm handheld stabilizer for use with the Sony DSLR. It allows high and low angle shooting, and simulates a little bit the effect of a Steadicam. Not as good as a real Steadicam (which costs at least 250 times more) and it's not always easy to operate, but it gives good results.
Ghost always dreamed of real Steadicam, but those things are so expensive he will have to win the lottery first to buy one. One day however Ghost found a YouTube video that explained how to make a DIY Steadicam. With that video in mind, Ghost did made 'a kind of Steadicam'. Build for less than €50 with some metal pipes, tape, screws and foam from the DIY store + weights from the sporting goods store. No picture of it (you would probably laugh) but believe it or not, it does what it should do, making stable recordings while you walk arround. 
Lensball
With the Rollei lensball, Ghost can take photos or videos in which the environment is reflected in mirror image at an angle of 180°.
With a lensball you can create very special photos, and all subjects are possible. People, nature, animals, places, objects, food, etc…
The high-quality finish and surface quality of the lensball excludes air pockets, air bubbles and interfering elements that reduce the image quality. As a result, you get incredible optical clarity and sharpness, much better than simulating these types of images using software like Adobe Photoshop or other programs.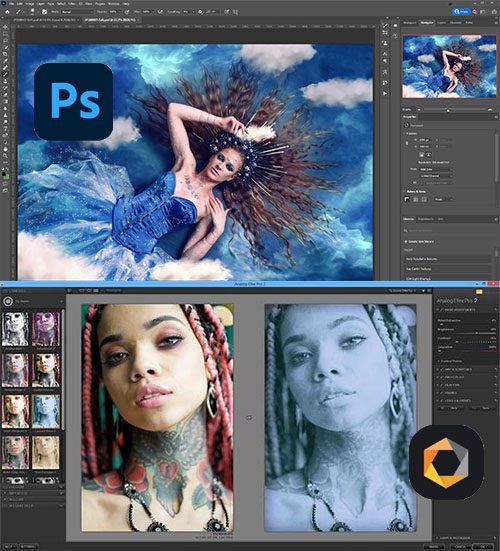 Photoshop & Nik Collection
Ghost uses different programs for post-processing, but before editing with other software, a photo usually first goes through Adobe Photoshop. This program is and remains the reference in the field of photo editing.
Ghost's Photoshop also features DXO's Nik Collection plugins. This is a series of eight plugins in Photoshop that offer many additional editing options such as color, tone, and contrast, HDR, converting to black and white photo, sharpening photos, and much more.
Anthropics Portrait Pro
Ghost has been using Portrait Pro from Anthropics for years, especially for post-processing portraits.
Although Ghost's version is still Portrait Pro 15 and they are now well into the 20's what the version concerns, this older version remains a fantastic piece of software. A portrait photo can be edited in great detail with it.
Face sculpt controls, skin smoothing controls, skin lighting controls, makeup controls, eye controls, mouth and nose controls, hair controls, skin coloring controls and picture controls ensure that you can even turn the ugliest person in front of your camera into a real beauty, in a very short time, way shorter than post-processing the portrait in Photoshop.
Luminar Neo & Aurora HDR
Luminar Neo and Aurora HDR from Skylum Software are post-processing programs that Ghost also uses extensively, but mainly for architectural photography, landscapes and HDR conversions.
Luminair Neo uses Artificial Intelligence to edit photos, which provides unprecedented possibilities and results.
Aurora HDR is the most powerful software for editing high-dynamic-range images available today. Its ability to merge exposure brackets and tone map individual RAW files make it an essential tool for photographers wanting to take advantage of HDR.
ON1 Software
The On1 software collection are six programs that Ghost is also frequently using for post-processing of photos. This collection consists of: 
ON1 Effects, with which numerous extra effects can be added to photos.
ON1 HDR, which, just like Nik Collection and Aurora HDR, provides beautiful HDR photos.
ON1 NoNoise AI, a piece of software that uses artificial intelligence to remove the noise from your photos.
ON1 Photo RAW, an extensive program to work with RAW files.
ON1 Portrait AI, a program in the style of Portrait Pro, which Ghost is using more and more because the new version also has artificial intelligence to edit portrait photos.
ON1 Resize AI, with which you can again use the same artificial intelligence to extract and enlarge certain parts of photos with an absolute minimum of quality loss.
Capture One Pro
Although Capture One Pro has a lot of functions for post-processing as well, Ghost mainly uses this program for one single function :  The tethered capture function with live preview.
This function shoot images directly to your computer with the industry's fastest and most reliable tethered capture. Instead of storing your photos on the SD card of the camera, they go directly to your computer where you can see them seconds after they have been shot, and start editing on the fly.
With Live View, you can see what your camera sees on your computer screen, and you have full control of your camera settings directly on your computer.
Premiere & After Effects
Adobe Premiere & Adobe After Effects are two top notch programs Ghost uses for video editing.
Adobe Premiere is more focused on the editing process itself, while Adobe After Effects is like the name says more for adding special effects to your video's after they have been edited.
Ghost has more than 20 years experience with Adobe Premiere, a bit less with After Effects, and altrough both programs have countless and stunning possibilities, they're not always user-friendly. It takes a lot of time, manual reading and watching hours of Youtube tutorials  before you get a real grip on them. 
Therefore Ghost is using them not so often anymore. He has found something more user friendly and at least as good. See next slide… 
Wondershare Filmora
Wondershare Filmora is the editing program that Ghost uses much more than Adobe Premiere these days. This software not only has a very user-friendly interface, but also several functions/options that are not even available in Adobe Premiere or are much more difficult to realize with it.
In addition, Wondershare Filmora has a huge online database with thousands of effects, titles, royalty free audio, icons, transitions etc… You can get incredibly creative with Filomra, there is online content available for each subject, which you can also completely customize.
Ghost has become a huge fan of Filmora, and it's not an expensive program either. For only € 79 (one time) or € 49 per year, which also includes updates to future versions.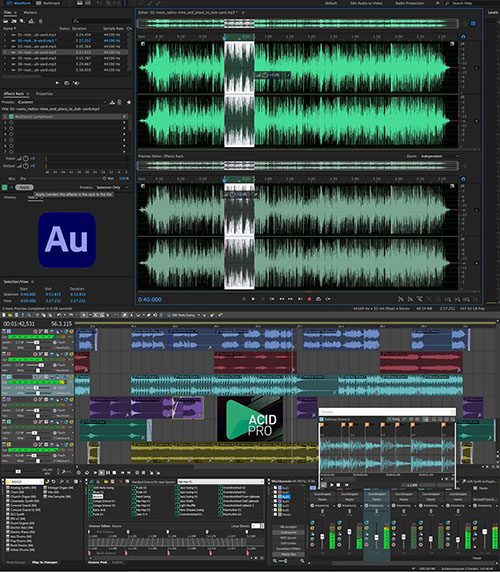 Adobe Audition & Acid Pro
Ghost is using Adobe Audition for audio editing for more than 20 years, even since it wasn't not yet owned by Adobe and was called Cooledit. Very complete program that has everything you could wish for use in the field of audio post-production
To create original music for videos, Ghost uses Magix Acid Pro, one of the most advanced digital audio workstations available.
MSI GE62-7RE-095 Laptop
Ghost's MSI GE62-7RE-095 laptop is his indispensable friend, especially when he has to work somewhere on location. The laptop is already fairly old (from 2017), but it still does what it should do.
Ghost usually does the classic photo editing on his Asus Desktop computer, which he built completely custom, but he can't just carry it around everywhere. The laptop can go anywhere and is especially useful for both operating the DSLR and viewing live images that have just been taken in Capture One Pro.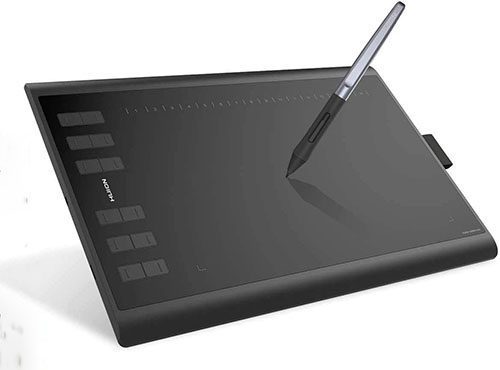 Huion Graphics Tablet
Ghost's Huion Inspiroy H1060P Graphics Tablet with a drawing surface of 25.4 cm by 15.78 cm, is very useful for photo editing and working in detail, which is not always possible with the mouse and via the laptop.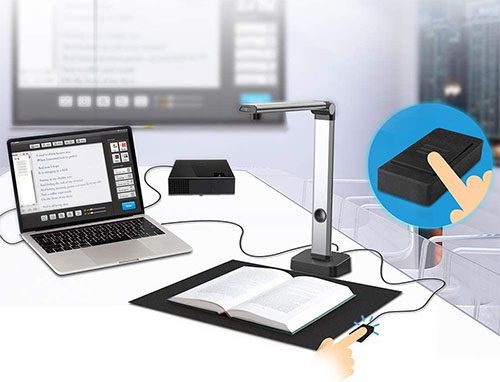 Joyusing Portable Scanner
Ghost mainly uses the Joyusing portable scanner to scan images (up to size A3) that serve as inspiration or to quickly make a copy of a model release.
It's a cheap portable scanner with a resolution of only 14 MPX, but that's fine for the purposes Ghost uses this device for in terms of photography.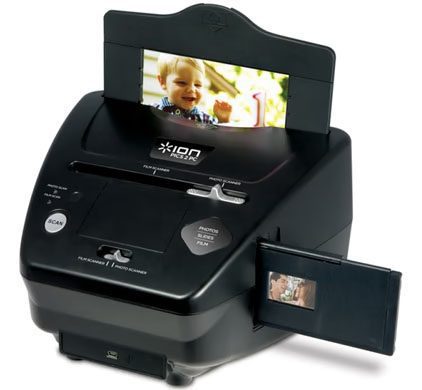 Slide And Photo Film Scanner
Ghost's also owns a budget Ion Pics2PC multiformat slide and photo film scanner to scan 35mm slides, negatives, and photo's.
It's really a cheap thing, with just 5.1 MPX resolution and capture up to 3600 DPI, but it can scan old analog material. Scanning with a flatbed scanner (Ghost also owns one) is way better, but takes longer than with this device.
Excelvan CL720 HD Projector
Ghost's Excelvan CL720 HD LED projector has a high brightness 3000 lumens, a resolution of 1280×800 and can also display a red/blue 3D image.
This projector can display a diagonal image of up to 260″ (6.6m). This requires a very large white wall because Ghost's projection screen is only 100″ diagonal (2.54m). However, it is made of white polyester fabric, but the back is black. This unique technology helps reduce the influence of ambient light.
In addition to various audio connections for external sources, the projector also has 2 HDMI connections, 2USB ports, a TV Input and VGA input, so that almost all modern but also older peripherals can be connected.
Ghost sometimes uses the projector for photography purposes by plugging in a laptop to display or show the Capture One Pro software that provides live previews of the shoot on a very large screen to the model standing in front of the camera. A large screen is always more fun than a small laptop screen.